Winter in Chicago
Charles Cain - Jan 12th 2011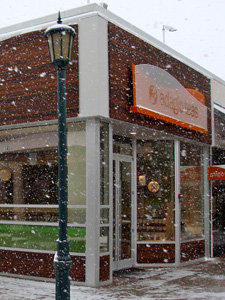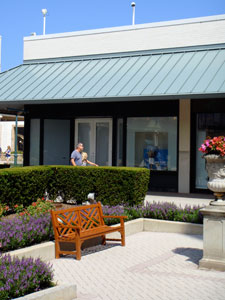 On days like yesterday, with the wind howling and snow falling, most shoppers hurry past the front door, bundled tightly in winter gear, faces shielded against the snow and wind. It's a bit depressing. I just spent a small fortune completely renovating a corner storefront in a beautiful outdoor shopping mall, and most people aren't even stopping to admire my new 12-foot window displays or rows of under-lit sample jars in the windows, much less take note of the new tea shop inside.
We opened our second Adagio Tea "Experience" retail store on November 30th. Sales started a bit soft but nearly doubled every week and finished the year with a pretty impressive showing. The store is doing fine, but we still didn't see the overwhelming numbers I had secretly hoped for. It wasn't a failure of store design, staffing or marketing, but a failure of timing (More on timing a store opening here).
When we opened our doors in the middle of the holiday shopping season, we did not have an established customer base waiting to stop in. More importantly, while a beautiful outdoor mall is great for attracting curious shoppers in good weather, not many people are walking from store to store and peeking in the windows when the weather outside is frightful. We opened with three Saturdays left before Christmas, and on two of them we had the misfortune of experiencing pretty intense winter storms. Those brave (or foolish) souls who did choose to do their shopping at our outdoor mall were not looking for gift ideas; they were on a mission.
In the long run this location will definitely pay off. My primary objective in choosing a location is targeting what I call "browse shoppers". These are people who are spending a good portion of the day shopping. They park nearby and walk from store to store (often in packs), stopping for food along the way. Most importantly, they are excited to discover a new retail store and primed to spend money.
A high-end, outdoor mall is second only to a handful of urban shopping meccas (i.e. Michigan Ave.) in delivering "browse shoppers". The downside of the urban shopping meccas is that they tend to attract tourists more than locals. Tourists are great, but it's hard to build long term profitability without a core base of loyal locals.
While winter in Chicago can be a bit intense, the good news is that the rest of the year is more conducive to outdoor shopping than most other parts of the country. (If only Southern California would fall into the ocean I could get over my geography envy entirely.)
Come spring, this location will benefit from an Adagio-branded outdoor patio approved for up to 56 seats! While I have little interest in opening a tea café or tea room because of the impact of the food-service operation on holiday sales, this outdoor patio is only open from March to October and so allows us to focus on selling gifts and tea during the winter while engaging the customer in a more relaxed setting in the warmer months. More detail on this in When to break the rules.
Now that the busy holidays are over, we're turning our focus to tastings and events, and planning for the roll-out of our new patio. There's still a lot to do before we reach this location's busy season.
And of course, it's time to get started on store number three. :)
Adagio Teas
Twitter: @AdagioRetail