The real estate minefield
Charles Cain - Jan 21st 2011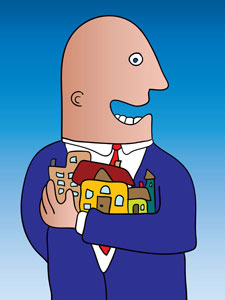 Now that we've survived the crush of the holiday buying season, I've turned my attention to finding store locations #3 and #4. I continue to be absolutely amazed by the lack of coherence and logic behind landlord expectations. Asking prices are all over the map, and making sense of this mess requires solid research and a lot of footwork.
I wrote once before about the value of a broker in site selection. If you're going through the process of finding retail space yourself, I would strongly encourage you to read this.
In addition to the advantages I described in that article, brokers are critical for getting you details on recent deals that have been done and the back-story on the property you're researching. I can't imagine trying to wade through the sea of conflicting information without the hard data provided by my broker.
For example, I'm currently looking at and negotiating on potential properties in a prime location where the asking rents range by more than 40% with very little discernible difference between spaces. In some cases, the landlords are asking far more than they expect to get, and are glad to negotiate. In others, the property may be owned by a trust or by a bank that does not have the flexibility to adjust to current market rates.
One scenario I've seen is a landlord who owns a number of properties and is in danger of losing the properties to the banks. Signing a lease at the current market rate could cause a devaluation in the properties and trigger a change in lending terms.
While it's always best to take a "buyer beware" approach when making any major purchase, there is usually the assumption that the asking price has some relationship with reality. This is definitely not the case in the current market. There is too much blood in the water and too many secondary factors that are affecting rents and negotiating flexibility.
The key for me at this moment is patience and hard work. I may have to find a dozen target properties in order to land a single lease.
I'll let you know how it goes.
Adagio Teas
Twitter: @AdagioRetail