Marketing to the passing shopper
Charles Cain - Jan 24th 2011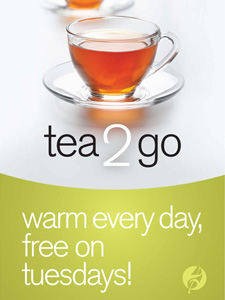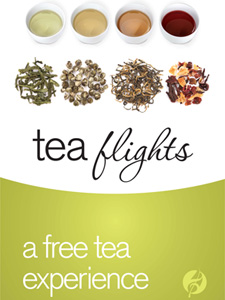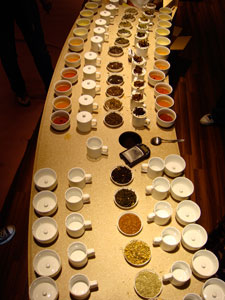 Mid-January: the holiday buying season is a distant memory and the heart of winter in the the Midwest is upon us. As I wrote in Winter in Chicago, the challenge now is to capture the attention of those hearty souls that brave the cold and are hurrying by our front door, bundled head to toe against the freezing winds and snow. This is tea drinking season, but it is NOT the season in which new consumers stroll down the avenue looking for new retailers to visit.
Advertising a tea retailer is difficult enough in the best of seasons. While most consumers drink tea, they are not so excited by the product that they'll change their established routines to visit a new tea seller. Existing tea lovers comprise provide a nice base of business, but our long term success depends on inspiring passion among the casual and novice tea drinkers. Capturing the attention of a customer base that is not already motivated by your product requires dropping a store where they already shop and offering a unique experience (more on the importance of location). American's (those with disposable income at least) are suckers for new, exciting and exotic products and experiences.
In an effort to catch the eye and tweak the curiosity of passing shoppers we've created two new posters highlighting existing offerings. (My apologies to our incredible designer. In order to fit the profile of the image template I had to crop these awkwardly. The original posters are a bit taller.) These will be hung in the windows and displayed on sidewalk signs.
First, we're featuring our tea bar which offers a fresh, hot (or iced) cup of any tea in the regular collection (150-200 teas depending on the store). Because our focus is on retail sales, tea2go is a rather small percentage of our business. That said, it's a concept that is familiar to just about everyone thanks to the ubiquitous coffee shops. Most importantly, a warm cup of tea is a great fit for a cold day.
To help build our base of loyal tea drinkers, we're starting a "Free Tea Tuesday" promotion. For the time being - until we're overwhelmed with traffic or come up with a better idea - a small cup of any tea in our regular collection will be free on Tuesdays. Because our tea bar is self-service (we brew the first cup with you to teach you how), we're able to minimize labor costs and wait times. The cost of the product itself is minimal compared with other forms of advertising, and what better way to introduce people to our tea than with free tea?
The second promotion is another existing offering. One of the primary objectives of our store design is the ability to engage customers in a sensory rich tea experience. Customers are welcome to try any tea in the regular collection absolutely free of charge (you only pay if you take a cup with you). Even better, we encourage comparison cuppings. Want to try four different strawberry teas? Or how about all four Adagio Chinese Keemuns? There is no better way to learn about tea or find what you like than a professional cupping guided by an experienced tea consultant. Or, if you would prefer, we'll set you up with the equipment and let you play all on your own.
At the end of the day the strategies are very simple. The keys to success are A) High "shopper" foot traffic, and B) Store design that efficiently supports high volumes of self-serve tea brewing and hundreds of cuppings a day.
I'll let you know how it works out.
Adagio Teas
Twitter: @AdagioRetail