Investing in an outdoor patio
Charles Cain - Apr 15th 2011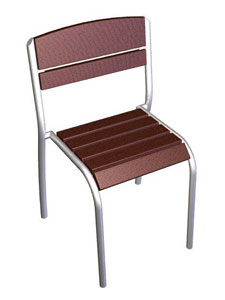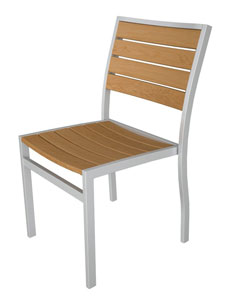 I'm conflicted. Branding is important, but there's obviously a point at which the return on investment just isn't there. Spending too little on a store absolutely hurts your image and your sales. But at some point the value of each dollar decreases. Spending too much is also foolish.
I'm working on the design for our outdoor patio at our Old Orchard Mall location. The same design will be replicated in a smaller format at our Naperville store, and possibly at the downtown location I'm currently negotiating on. I have approval for UP TO 54 seats at Old Orchard, 12 at Naperville and 16 at the downtown space. These patios would be open each year from roughly May 1st through some time in October. For more information on the theory and strategy behind the our decision to open a patio, read When to break the rules.
The patio is great for creating ambiance and giving customers an opportunity to sit and enjoy our product. It fits people's expectation of what a tea shop SHOULD be. That said, it's not necessarily a huge profit driver since our core business is retail sales and not foodserivce. It may be good for business, but isn't going to make or break us.
So how much do we invest in the perfect patio? For simplicity sake I'll pose three options, and use the per chair pricing as a baseline:
1. $150 per chair for inexpensive patio furniture made from aluminum and faux wood (plastic - for maintenance reasons) with a one year commercial warranty. We can get a reasonably good match to our brand image. Great for testing the theory but a poor investment if we are confident that the patio will be a hit. The other big potential downside to a chair that may only last a year - liability. People don't like to end up on their rear in public. The chair pictured is an example of what I like, but is not actually stack-able so won't work.
2. $100 per chair for used wrought iron or cast aluminum furniture. No differentiation from all the other black, grey or silver metal furniture that's out there. We may have trouble getting the mall to accept it, but it would be cost effective. Does the customer really care if it doesn't match Adagio?
3. $400 per chair for Commercial Grade furniture that is customized to our brand and store design. 5 year commercial warranty. Extruded steel frame and Ipe Brazilian hardwood construction. This is the same, maintenance-free wood that we've used for the exterior facade of our stores. It would be a perfect match and would look and FEEL expensive, solid and luxurious. (This wood just feels amazing.)
On the one hand, when you spend a couple hundred thousand dollars building out a store it makes sense not to cut corners on the first thing the customer sees when they approach your establishment. On the other hand, when you spend a couple hundred thousand dollars on a store it's painful to drop another $30,000+ on a patio (complete with tables, chairs, umbrellas, railings, planters, etc.)
The Mall has said they will only accept new furniture with a 5 year commercial warranty, so it may be a moot point. That said, they've made demands before and at times backed down so anything is possible. IF we go all out, I would start with maybe half the tables and chairs at Old Orchard to test the popularity, but this WOULD lock us into the design and direction.
At the end of the day I'm just a poor boy from a poor family (resisting the urge to break into song) and $400 for a patio chair hurts. The prospect of buying 82 chairs, plus 30 tables, plus umbrellas and railings and planters... Gotta sell A LOT of tea.
-------------------
UPDATE - April 27, 2011
-------------------
So today the Mall sent me an email wondering why I haven't finished my plans for the patio. To help speed the process, they forwarded me information on the furniture THEY selected for another outdoor seating area within our mall.
They purchased the SAME furniture I selected over a month ago. The same furniture they rejected because it only has a 1 year commercial warranty. I think I'm just going to do what makes the most sense for Adagio. At this point the "reasonableness" clause in our lease pretty much prevents them from rejecting anything I select. :)
Adagio Teas
Twitter: @AdagioRetail