Now Hiring: All positions for new store
Charles Cain - Jul 13th 2011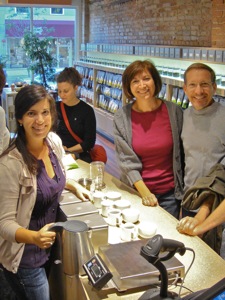 Position: ALL
Locations: ALL
Type: ALL
Adagio Teas is EXPANDING!
We've just signed the lease on our third store and we're looking for passionate team members to join our team. We'll be transferring some employees from existing stores, so we really need a few great people for each of our three stores.
The right candidates will have some previous sales experience and a passion for customer service. Adagio Tea Consultants are front-line tea evangelists on a mission to introduce casual consumers to Adagio's collection of more than 200 premium loose-leaf teas and line of tea brewing equipment and accessories.
Adagio Tea Stores are designed to be a playground for tea. Where else can you smell and touch hundreds of teas and get a guided tour from a trained expert? Customers are encouraged to create custom tea blends, brew samples of any tea in the building, and test tea accessories on our Cupping Table. Adagio employees are upbeat, relaxed, irreverent, and crazy about the leaf. This is NOT your local cafe OR an old-fashioned tea shop full of tea snobs.
Responsibilities:
Develop deep expertise in the history, culture and production of premium loose leaf teas from around the world
Sell goods, recommend products and serve customers on the sales floor
Maintain store appearance and product presentation to company standards
Implement strategies to improve customer service, drive store sales and increase profitability
Candidate Profile:
Retail or food-service experience
Excellent communication and sales skills
Refined palate (we can teach you about tea, but you need to be a foodie)
This will be our third store in the Chicago land area in 12 months. We're looking to test and prove the model before expanding further. We're looking for highly motivated candidates willing to get their hands dirty and do the heavy lifting to help make our retail operation successful. We also need highly qualified people able to grow with our company and advance into more senior roles as we take what we've learned in the first few stores and build a national retail operation.
To apply, please complete this 10 question survey and email your resume to the address provided at the conclusion of the survey.
Adagio Teas
Twitter: @AdagioRetail