The value of a Broker in site selection
Charles Cain - Dec 3rd 2009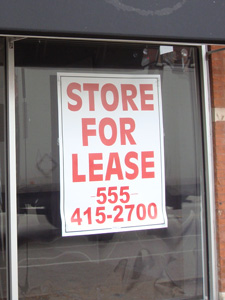 In retail, location is everything! We've all heard that before, and yet I don't think I've ever seen a course on how to find the perfect retail location. As with most things in business, there are a lot of common sense concepts and strategies, and a few tricks that may not be so obvious.
I'll write separately about what I look for in a location and how I evaluate a neighborhood, but I wanted to start by sharing the importance of a Real Estate Broker.
First let me say that this article and everything else I write is based on my experience only. After opening 5 tea stores and searching for locations in about a dozen other cities, I have learned a few things, but my knowledge is far from comprehensive and your experience may vary. In MY experience, a broker is an essential part of finding the best location and negotiating the best deal possible. Here are a few reasons why:
The best locations are usually leased before they go on the market.
Unless you are very well connected in your community and know the landlords, there is no good way around this one other than by using a broker. Long before an existing tenant is out they will have to let the landlord know that they will not be renewing their lease. Usually the word will spread through the real estate community but no sign is put in the window because the tenant still has rights to the space and does not want to alarm the staff or existing customers. A good broker will use their connections to sniff out spaces that will become available in the future - and the best spaces are usually leased before the sign even goes up in the window.
Many landlords will only deal with brokers
I have called the number on the For Lease signs in the windows of well over 100 spaces, and about half the time I never get a call back. I'm usually looking in big cities so you may have better luck, but the clear theme here is that the landlords and leasing agents get tired of responding to and qualifying all of the potentially interested tenants, and simply ignore those without representation. It's much easier to work with a dozen brokers who will weed out those not serious than hundreds or thousands of potential tenants.
A good broker can help you negotiate a good deal
Do you have any idea how much area spaces are leasing for? Do you know what the landlord has offered in terms of rent abatement or tenant improvements in the past? Any idea how likely it is that the city will require you to put in handicap accessible customer bathrooms? Is the landlord currently negotiating with any other potential tenants? Your broker should be able to answer some or all of these questions for you, and those answers can make a huge difference in selecting the right space and negotiating the best deal.
So you need a broker, but how does it work?
The broker will ask you to sign a representation agreement stating that you will work only with them for a fixed period of time. They will assist you in finding space and negotiating a deal. In return, you will guarantee them a commission of a certain amount. The amount differs depending on the market, but I've been asked for $20,000 per space and negotiated that down to between $10,000 and $15,000 depending on how many stores I expected to open.
That's a big price tag, but the good news is that some or all of that should be paid by the landlord. Because the landlord relies on brokers to find and qualify tenants (see the entry on landlords refusing to return your calls above), they will usually offer a commission on the full price of the lease. A typical commission is 3%, but more or less is certainly possible. For example, let's say you lease a 1,500 square foot retail space at $50 a foot for five years. The total value of the lease is $375,000 and at 3% commission the broker gets $11,250 from the landlord. You are responsible to pay the broker the difference between the commission in your representation agreement and the commission they get from the landlord.
In the case of larger spaces or more expensive markets, the brokers usually get 100% of their fee from the landlord, much the way residential real estate brokers are paid out of the proceeds of the sale of a house. However, if you are looking at a small and/or inexpensive space, you may have to contribute a significant amount of money to the broker's commission. The theory is that it takes roughly the same amount of time to find and negotiate a 10,000 square foot restaurant space as an 800 square foot tea shop.
Finally, you should be aware that it's up to the landlord whether or not they offer a commission at all. Smaller private landlords may refuse to offer any compensation to the broker leaving you on the hook for the full amount!
Happy hunting!
Adagio Teas
Twitter: @AdagioRetail