Competition: How much is a good thing?
Charles Cain - Dec 17th 2009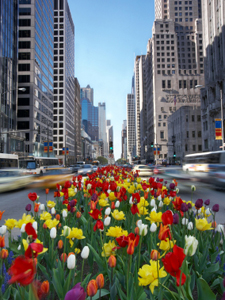 With the goal of opening our pilot store in the spring, my top priority these days is finding that perfect first location. I'm looking at some pretty impressive options, but am currently a little caught up in an internal debate over how much competition is a good thing.
Theory #1: Pick a location were there is no real competition (no-one selling product of your caliber or offering an experience that rivals yours) and you can get ALL the specialty tea drinkers.
This seems to be most common approach to selecting a location for a tea shop. With the exception of ethnic communities, I don't recall ever seeing several tea shops in close proximity. I know that there is a large potential customer base in just about any market that is currently un-served. I also know that it's important to introduce people to premium tea. But it's also true that developing a market is often slower and more expensive than offering a more competitive product to an already established customer base.
Theory #2: Position yourself near a very good competitor and you create an even bigger draw for your product or service. Tea lovers will come from farther away because there are TWO great tea shops to visit. The curious novice will be enticed by the apparent boom in popularity of premium tea. As importantly, for a company like Adagio that is considering opening more than one shop, success in the presence of competition tells us a lot more about the strength of our model than success in a vacuum.
Theory #2 is pretty rare in the tea industry, but is ridiculously common with good restaurants, clothing stores and boutique shops in general. Consumers like to go somewhere that offers a "critical mass" of whatever it is that interests them. Customers like choices, and so long as what we are offering is genuinely competitive in terms of quality, price, service and experience we'll do just fine.
I'm not afraid of the competition. To be honest I'm rather confident. But I don't want to seem aggressively competitive and really have no desire to put someone out of business. I've seen industry reports that say 76% of US households buy packaged tea products. In an area with high population density, two tea shops that cater to somewhat different audiences should do just fine.
But this is still the tea industry where "everyone knows your name". It's really a small community and I'm not so sure how opening a store nearby an existing tea shop would be seen by the local community, the tea community, or the competition. Am I crazy to consider opening a shop a block away from one of the biggest names in the Specialty Tea Industry?
Adagio Teas
Twitter: @AdagioRetail