Building an accessory collection
Charles Cain - Jan 5th 2010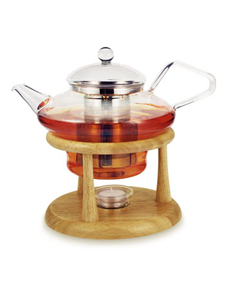 Without question, the focus of the Adagio Retail model is loose leaf tea. That said, new retail tea shops often derive 40% of first year sales from accessories. Even well established shops often get 20% to 25% of sales from accessories, so this is clearly a critical component of the business.
At the highest level, I break all tea accessories into one of two categories: Brewing Equipment and Decorative Teaware.
Brewing Equipment includes everything you need to prepare a cup of tea: kettles, teapots, cups, thermometers, gram scales, teaspoons, and storage containers. These are the tools of tea. They should be focused on utility and efficiency and should be reasonably priced.
Decorative Teaware usually serves a purpose, but focuses less on simple utility and more on aesthetic appeal. Decorative filters, teapots, teacups, storage containers, trays, warmers, and candles are just a few of the most common pieces. These make great collector's pieces for tea lovers and wonderful gifts.
Adagio does a great job with the Brewing Equipment. Products like the IngenuiTEA and utiliTEA are staples of independent tea shops across the country. I do believe we need to add a thermometer, timer and gram scale to complete the collection but otherwise am very confident in Adagio's core collection of brewing equipment.
With the exception of the Concert Teapot, Adagio simply doesn't carry Decorative Teaware. This is somewhat unusual for a tea website and a real hole in the collection of a retail tea store.
In preparation for the Retail Store I intend to add a core collection of Decorative Accessories, and then feature larger collections of specific accessories in keeping with the current marketing theme of the store. The Core Decorative Teaware collection will include a small handful of options in each of the following categories:
1. Japanese cast iron teapots and cups
2. Chinese clay teapots and cups
3. Porcelain and ceramic teapots and cups
4. Decorative storage containers
5. Decorative tea kettles
As part of the store's marketing strategy, I plan to periodically feature the teas, accessories, and culture of a specific region. So for example, we would likely focus at some point on Chinese Oolongs. During this themed period, we would highlight the teas in this category, offer a series of tastings and events, and carry a broader collection of decorative Chinese teaware. During most of the year we might carry one or two Chinese gaiwans. During the feature period I would love to carry a dozen gaiwans. This will allow us to expose our customer base to a broad array of culturally interesting and aesthetically beautiful accessories without dedicating the shelf space necessary to stock a wide range of accessories from each category all year long. It will also allow us to offer our employees deeper ongoing education in the culture and history of tea without overwhelming them by requiring them to know the history and use of every accessory when the store first opens.
The retail store will also serve as a great test bed to identify the most popular decorative accessories that will then be carried on the Adagio Teas website.
The process of selecting the accessories for the core collection and for the themed promotional periods is one of the more enjoyable parts of the job of running a tea retail shop. I look forward to including our customers and employees in building the ideal collection.
Adagio Teas
Twitter: @AdagioRetail