When the landlord says no -- UPDATED
Charles Cain - Mar 3rd 2010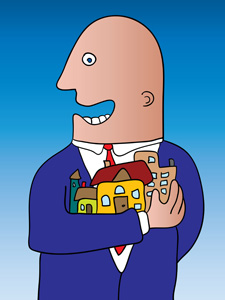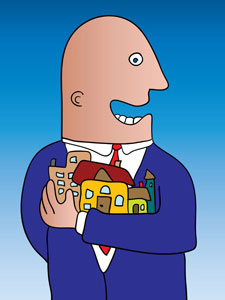 OK. So I have an update on this original story posted on January 30th. Last time around we offered the landlord's asking price and got turned down in favor of a retail chain that already has 30 stores. I considered that pretty frustrating. I ended the piece with the teaser that we had a lead on a new space across the street.
This new space was almost the identical size and in similar condition. The landlord's asking price was a little over 30% ABOVE what the space across the street leased for. I figured it was a safe bet to offer landlord #2 the exact rent that landlord #1 had accepted only weeks before. I was wrong. Someone who obviously did not know what space in the neighborhood was renting for offered the outrageous asking price. The landlord accepted without even giving me the opportunity to re-bid or counter. Another opportunity lost.
The moral of the story is that you need to allow a lot more time than you'd like to find the perfect retail space. Even after you agree on an LOI it can take weeks or even months to get a lease signed depending on the landlord and how many people on involved in the process.
A second lesson learned is the importance of a well-connected broker. Both of these spaces were on one of the top retail streets in the greater Chicago Land area. Both were re-leased without a sign in the window and before the existing tenant's employees even knew they were about to be out of a job. Recession or no, great retail space is hard to come by. For more information read The value of a broker in site selection.
The good news is that I've now found an even better space. :)
--------------------------------------------
[Original article posted January 30, 2009]
There are few things in retail more frustrating than finding the perfect location with the perfect layout on the perfect street, offering the landlord's asking price and getting turned down!
What did I do wrong? What more does the landlord want? What could I have done, or can I do next time, to avoid going through this process again only to be disappointed?
Before I continue, let me take a moment to toot Adagio's horn. My goal is not to sell you anything, but to share with you the profile of the company that was so unceremoniously rejected:
1. Adagio Teas has been in business for 10 years and today has offices and warehouses in New Jersey, California, the UK and China.
2. We are the largest online tea retailer in the US
3. Our products are in more than a dozen grocery chains including Whole Foods, Harris Teeter and Meijer.
4. We offer a full range of proprietary Adagio loose teas, bagged teas, bottled teas, tea brewing equipment, and teaware.
5. Adagio is solidly profitable and could afford to open several tea shops and fund protracted losses without hurting the parent company (don't worry boss, I won't let that happen!)
6. I've spent the last five years bringing the most successful tea retailer on the planet to the US, and so have learned a few things about what will and will not work.
Long story short we're not exactly a fly-by-night operation with no clue what it takes to be successful. We were able to submit long term references, detailed financial statements, and even professional 3D mock-ups of the proposed design of the news space.
The landlord said no.
They gave the space to another prospective tenant who already has 30 stores and has been in business for 20 years. The landlord was also worried that our ambitious build-out plans would trigger City code requirements for ADA accessibility and improved fire protection systems. (New building codes don't typically go into effect unless you spend over a certain amount - i.e. $50,000 - in renovations on the space.) At the end of the day, we can't compete (in the risk department) with an established retailer who has already opened a chain of stores. Incredibly frustrating, but a good lesson learned
Because I've been down this path before, I'm actually negotiating on three other spaces simultaneously. Nothing is binding, not even a formal, signed Letter of Intent, until a lease is signed. Even if you find the perfect space, don't stop looking. There are too many things that could go wrong and you don't want to find yourself back on square one after several months of searching and negotiating!
The good news is that I've now found an even better space. It happens to be across the street. :) Hopefully this landlord is willing to give us a shot!
Adagio Teas
Twitter: @AdagioRetail