Packaging and Pricing for Wholesale
Charles Cain - Mar 1st 2010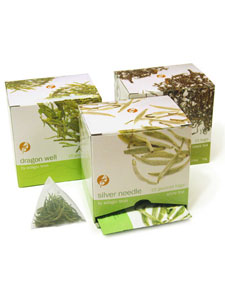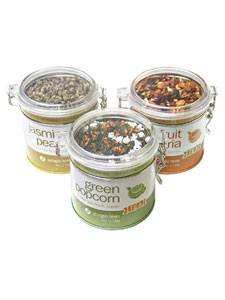 What's the difference between success or failure of a new tea on the grocery store shelf? Packaging. Long run, quality certainly matters, but before the consumer can be impressed by your quality they first have to be impressed enough by your packaging to make that initial investment and give your product a try.
We knew the importance that packaging plays in consumer behavior before designing our packaging for bagged and loose teas for wholesale distribution. We developed custom boxes for our individually wrapped pyramid tea bags. Because these bags contained the same, high quality loose tea we sold elsewhere we named this product realiTEA. These boxes each contain 15 bags and retail for between $6 and $10. We also designed some very cool tins for our loose teas. This visibiliTEA packaging had a clear lid with a UV coating so that customers could see the tea but it wouldn't be harmed by exposure to the light. These tins typically contained about 4oz (more or less depending on the leaf) and retailed for between $10 and $30 depending on the tea.
What we didn't realize was that most of the tea you see on the shelf at your local grocery stores doesn't sell. OK, so that's a little bit of an overstatement, but suffice it to say that most of them don't sell nearly enough to make a profit. Turns out that a good portion of the companies buy shelf space to get their product in front of the consumer. Just because you see it on the shelf doesn't mean many people have bought it in the past or will buy it in the future.
The tea products that DO sell well in a grocery setting (even a premium grocery store like Whole Foods) are those priced around $5 or less. I've talked with a couple buyers for Whole Foods who said that most customers don't read the packaging, they don't pay attention to the amount of tea they are getting, and they really don't understand 90% of what they are looking at. They buy based on price range, familiarity and packaging. So the best way to get customers to try a new line of teas is to design eye catching packaging and price your product around $5.
That's a rather difficult challenge. We didn't want to lower our quality standards, but there was no way we could afford to sell our 15 individually wrapped pyramid bags of our Dragonwell tea in a printed box for anything close to $5. The tins were even more expensive and totally out of the question.
We went back to the drawing board and designed a custom foil pouch that holds 10 pyramid bags. In order to leave out the individual wrapper on each bag, we included a zip lock feature in the top of the pouch. This strategy required us to invest a great deal of money in a new packaging machine, but it allows us to offer a line of 100% Organic, premium tea bags for $5 or less on the grocery store shelves! For the strategy to work we'll need to move high volumes, but at this point we've established some strong brand awareness and we have the attention of the big distributors and grocery stores.
This new packaging machine also gives us a highly economical, efficient, and environmentally friendly packaging solution for our E-Commerce operation and our new Retail Store. To read more about how this packaging will play a role in our retail operation read Store Design Part 3: Adagio's Concept.
For the foreseeable future, the grocery channel will never replace the role of Specialty Tea Retailers online or in small tea shops across the country. You simply can't please a tea connoisseur with a $5 package of 10 tea bags. But there also aren't enough tea connoisseurs buying tea in grocery stores to support the number of expensive tea products already on the shelf. Our hope is to use this low cost packaging strategy to introduce people to the Adagio brand and then serve those customers through our website, flagship retail store, and our hundreds of independent retail partners across the country. At the end of the day the goal is to get more people drinking good tea!
Adagio Teas
Twitter: @AdagioRetail