Wholesaling Tea Part 1: Overview
Charles Cain - Apr 6th 2010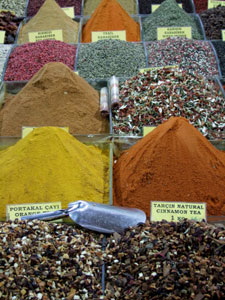 The US Wholesale Tea Business is a fascinating niche business characterized by an incestuous supply chain and an irrational focus on everything BUT product quality. In this series I'll attempt to unpack a few basic truths about the wholesale tea business that every entrepreneur should learn before either becoming a tea wholesaler or buying from a wholesaler.
In Part 1 I'll cover the industry at a high level. Part 2 will focus on sourcing, storing and blending teas. Part 3 will cover sales to independent retailers and specialty shops. Part 4 will focus on sales into Grocery and large retail channels. Part 5 will cover sales to food-service and hospitality operations.
The supply chain for most teas sold in the US is ridiculously incestuous. Half of wholesalers buy from other wholesalers. It's not uncommon to find the same flavored tea, blended by the same large wholesaler, sold at dramatically different price points under the names of quite a few smaller wholesalers. Many independent retailers pride themselves on choosing only the finest teas for their collection. As proof of this, they buy from many different tea wholesalers. I've heard shop owners boast of having more than 30 tea vendors. The incredible irony is that I've also heard tea wholesalers boast of selling to the same shop owner under the name of a half dozen different companies.
Lest I loose you in the details, allow me to elaborate. Because they don't have the resources to set up their own fully functional warehouses, and source and store a couple hundred different teas in sufficient quantities, many wholesalers are really only virtual distributors. They rely on larger wholesalers to drop ship under their company name. So Charlie's Tea Shop sits down on a sunny Monday morning and places orders with 10 different vendors. What Charlie doesn't know is that five of those vendors are actually reselling the teas of the same wholesaler. Instead of getting all of his teas in a single shipment (or better yet on a single pallet), Charlie is now going to pay shipping costs for five different shipments. Worst of all, Charlie is paying the markups and extra handling and packaging costs of these additional middlemen who are adding no value whatsoever to the supply chain!! This scenario plays out far more often than most will admit.
A rather large percentage of the customers I've sold wholesale to are, in turn, wholesalers in their area. This is not necessarily wrong. The question is whether the wholesaler is adding value to the supply chain. Value can be added in a number of ways including:
1. Local warehousing for just-in-time inventory management
2. Quality packaging that adds to the sale value of the tea
3. A brand that has a loyal customer following
4. Training, custom blending or other services
At the end of the day, extra steps in the supply chain are not necessarily a bad thing. In part 2 of this series I'll explain why it's much less expensive for small retailers or wholesalers to buy from US distributors than to go direct to the source countries. Unfortunately, a significant percentage of US tea wholesalers are not really adding value to the supply chain and are only taking advantage of the lack of sophistication and accurate information on the part of the buyers.
This leads me to my second primary point - buyers often have an irrational focus on everything BUT product quality. In many cases this is because they simply don't know how to tell the difference between a high quality and low quality tea in each of two dozen categories of teas they carry. Buyers of bulk, loose teas tend to buy based on the personality of the sales person, the story behind the company, and the price of the tea irrespective of quality. Buyers of packaged tea products purchase based on the quality of the packaging, price points and low minimum orders. Buyers of tea for service often buy based only on convenience (they sell so little tea that it's not worth it to them to search for the best supplier).
I've talked at length over the past few years with a great number of small business owners. My information is anecdotal to be sure, but an amazing number of people who make their living selling tea, choose their vendors based on the company websites and only sample the teas as a matter of curiosity. I've seen buyers sample 10 teas and then place an order for a collection of more than 50. If all such buyers were purchasing from highly reputable companies with proven track records of supplying only high quality teas, that might not be the end of the world. Unfortunately this flippant approach towards buying is all too common among wholesalers as well.
The end result of all of this inefficiency and dysfunction is that there is very little correlation between the final retail purchase price of a tea and the quality of the leaves. That's the bad news. The good news is that it really isn't all that hard for a business to "do it right", and those that do are rewarded with loyal customers and much better long term results. My final word of advice: if you're going into the tea business, make sure your teas are not an afterthought!
Check back soon for Part 2 in which I'll describe strategies for sourcing, storing and blending teas.
Adagio Teas
Twitter: @AdagioRetail