Wholesaling Tea Pt 4: Grocery
Charles Cain - Apr 21st 2010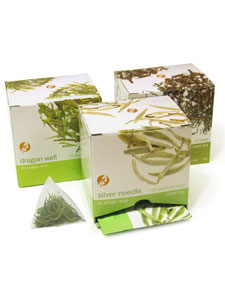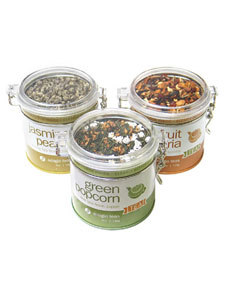 The US Wholesale Tea Business is a fascinating niche business characterized by an incestuous supply chain and an irrational focus on everything BUT product quality. In this series I'll attempt to unpack a few basic truths about the wholesale tea business that every entrepreneur should learn before either becoming a tea wholesaler or buying from a wholesaler.
In Part 1 I covered the industry at a high level. In Part 2 I covered sourcing, storing and blending teas. Part 3 focused on sales to independent retailers and specialty shops. In Part 4 I will share some of our experience with sales into Grocery and large retail channels. Part 5 will cover sales to food-service and hospitality operations.
This is a huge and complicated business, but I'll do my best to cut it into a few bite sized concepts to get you started.
Company Stability is a key criterion of large buyers. New companies or brands pop up (and go out of business) all of the time, and serious buyers have learned to avoid unproven products. Adagio has exhibited at quite a few of the large national and regional trade shows for many years as we've worked to establish our brand in the minds of the buyers and convince them we're here to stay. In some cases, we pitched our products to buying committees once a year for several years before they decided to give us a shot.
Buying Shelf Space is an option for those who don't have a few years to establish your brand and convince the industry you are for real. Each grocer/retailer handles this a little differently. Some, like Whole Foods, never sell shelf space (but are also very hard to get into). With others, it would not be uncommon to pay $5,000 per SKU to put your packaged tea products on the shelf for one year. A collection of five different teas would then cost you $25,000, multiplied by the number of retail/grocery partners you work with.
Shelf-Ready Packaging is an absolute pre-requisite. If your in compliance with all of the FDA's Packaging Guidelines, you're dead in the water. As importantly, your packaging has to be extremely professional. I had a conversation a few years back with a buyer from Whole Foods who said that the customer selects their tea based on two criteria: packaging and price point. They do not know or understand quality, do not recognize the majority of the brands, and do not pay attention to the quantity of tea in the package. MOST customers will chose the best looking package that is $5 or less (or $10 or less in some gourmet stores).
Competitive Price Points are absolutely critical. While there are definitely tea drinkers that will pay $15 or more for a 4 ounce package of loose tea, those consumers are not likely to buy their tea in the grocery store. Grocery store tea drinkers are MUCH more price sensitive. Based on looking at the loose tea shelf at a high end grocery store, one might conclude that the more expensive teas sell reasonably well. In many cases that's not the case. Remember, just because a product is on the shelf does NOT mean it sells. The wholesaler may have purchased that shelf space, or the grocer may keep it in-stock to stretch the price points (retailers often carry a few expensive products to make others appear less expensive by comparison and move the "middle" up the price ladder). In some cases 80% of the sales volume may go to 20% of the products on the shelf!
Adagio originally went after the Grocery market with boxes of 15 pyramid tea bags ($6 to $10 MSRP) and 4 oz tins of loose tea ($10 to $24 MSRP). While not terrible, the results were not what we had hoped for. Our Grocery partners suggested that if our goal is to reach a meaningful sales volume, we need to find a way to get our price point down to $5. I wrote an Packaging and Pricing for Wholesale on this challenge and how we solved it.
Distributors are another key element to the Grocery and Large Retail supply chain. Because they do not want to be buying from hundreds of small vendors, many grocers and retailers purchase a good portion of their product assortment from one of the large national or regional distributors. This reduces the burden on you for warehousing, fulfillment and customer service, but also eats heavily into your margins.
Brokers are another important piece of the puzzle. While many brokers are very expensive and will represent a wide range of products in addition to yours, a good broker will already know the key decision makers and can gain you almost immediate audience with top buyers. Many of the larger buyers would be completely overwhelmed by offers and proposals from small brands looking to get on the shelves, and so use the brokers as a way to filter out those who are not serious or not ready. A broker won't jeopardize their reputation by representing a company that is not ready. Hiring a good broker is a sign that you have arrived. But buyer beware. A broker will take your money with no guarantee of success. Choose carefully.
Summary. At the end of the day, the opportunities for meaningful revenues and profits selling tea into Grocery and Large Retail remain limited primarily to very large tea wholesalers with deep pockets. You will find specialty brands on the shelves, but the presence of the product does NOT mean that they are profitable or that their business model is sustainable given current buying patterns among the bulk of tea drinkers in the US. This is a fine strategy for a small company looking to gain exposure, but the speed of adoption and sales results will likely be less than you expect.
Adagio Teas
Twitter: @AdagioRetail