Blend your own teas
Charles Cain - May 28th 2010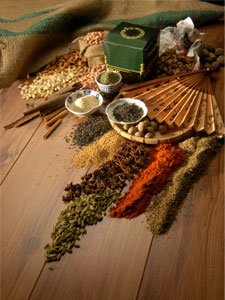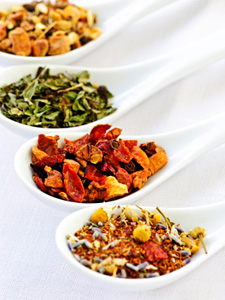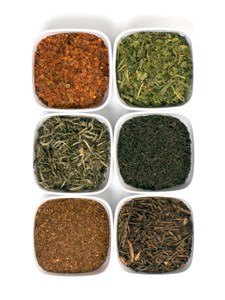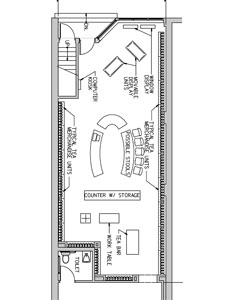 Giving customers the opportunity to create their own custom blends goes a long way towards accomplishing each of Adagio's primary retail strategies; making tea accessible to the average consumer, and creating a sensory-rich and entertaining shopping experience. The challenge is to design a smooth process that minimizes waste and labor and maximizes the customer's experience and satisfaction with the end product.
Allow me to start at the beginning. After five years behind the counter of a specialty tea shop I am convinced that the primary obstacle to consumer adoption of loose tea is uncertainty. Customers are hesitant to invest in the proper equipment and more expensive teas because they do not have a working knowledge of tea and tea preparation. For most people, the prospect of walking into a tea shop is intimidating, foreign and confusing. No-one wants to look uneducated, but few know the first thing about tea. Creating a custom blend gives customer a fun way to "get their hands dirty" and get familiar with tea.
Blending tea is also a sensory-rich and entertaining process. Not everyone loves to cook, but those who do find great pleasure in the process of experimentation and sensory exploration. Look, smell, add ingredients, smell, and adjust. What better way to figure out what a customer likes than to encourage them to create their own flavor combinations? What better way to encourage a customer to buy (and buy a lot) than to allow them to take ownership of the product?
The value of custom blends from a customer's perspective is pretty clear. The challenge from a retailer's perspective is equally clear. How do you give customers the opportunity to play with your product without creating a tremendous labor burden, wasting a ton of tea, and ending up with a final product that may or may not be any good? Here is the theory. I'll let you know in a few months how it works out.
Step 1: Bulk Tea – Each of the teas available for blending will be stored in one pound storage tins above the sample jar for each tea. Customers will be able to browse the sample jars and select as many as three bulk storage tins at time to create their custom blend. Each bulk storage tin available for blending will have a small sticker on the front indicating this to the customer and a large sticker on the back so that the staff can easily enforce the rules and make sure a customer is not creating an inexpensive blend with some of our most expensive teas.
Customers will be able to create blends from Adagio's complete line of flavored teas, rooibos teas, fruit teas, and a selection of more common black, green, white and oolong teas which work well as bases. We do not plan to encourage blending of single estate, premium loose teas. Because each of the teas available for blending are at similar price points, we will sell the final blend by weight and the price will be the same regardless of the components. We currently sell most of these teas for $6 for four ounces. Custom blends will be priced a little above our standard rate for a single tea.
Adagio's flavored tea collection is somewhat unique in the industry in that we offer a wide range of single flavor teas. Whereas most retailers create complex blends with unusual flavor profiles as a means of competitive differentiation, Adagio offers flavors like almond, apple, apricot, banana, blackberry, blueberry, caramel, cherry, chocolate, chocolate chip, christmas, cinnamon, coconut, cream, and currant. I've listed all 15 black flavored tea starting with the letters "a" through "c", and "christmas" is the only one that includes multiple flavors. With everyone else going for complicated blends, we've differentiated ourselves by keeping it simple! It also has allowed us to build a profitable wholesale business selling to independent tea shops that create THEIR own blends from our simple flavors. Care for a caramel apple tea? It's easy and excellent!
Step 2: Tools – Each customer looking to create their own blend will be given a blending tray complete with a tea scoop, large mixing bowl, small measuring cup, scale, and empty tea pouches.
Step 3: Work Area – To properly and comfortably "play" with the teas, we need a relatively large work surface. Our prototype design includes two, 10 foot long curved counters which will double as point-of-sale counters, consultation counters, packaging counters and blending counters. (See the image to the right for layout details.) Each counter will have one point-of-sale station on it, so that leaves a solid 6 feet for blending on each counter (12' total). We should be able to easily support 4 simultaneous blending sessions. The slight curvature will allow customers to more easily interact with each other. Our staff can assist and supervise each blending session from the employee side of the counters. 

These counters will be built with storage shelves sized to fit the blending trays with tools. The counter tops will have a small lip to keep stray leaves from falling to the floor. We plan to use Meganite (a Corian style acrylic material) so that the counters can be easily washed clean and will be extremely durable.
Step 3: Inclusions – Tea blends often include pieces of fruit, herbs, flowers or other items that add visual appeal and (sometimes) flavor to the blend. Most inclusions are only for show. The apple flavor in an apple tea comes from the flavoring oil that's added and the apple pieces are mostly for show. That said, this is a fun part of the process so we'll have a small collection of the most popular inclusions available for blending.
Step 4: Sampling – One of the most enjoyable parts of culinary creation is sampling. Because a significant portion of the perceived "taste" of tea is actually aroma, our sense of smell can give us an extremely accurate idea of what the tea will taste like. At the same time, we're in a tea shop so there is no reason we can't allow the customer to brew up a sample of their creation before calling it complete. We intend to allow free, self-service sampling of most teas in the building anyway, so the customer will be able to easily scoop a couple teaspoons of their blend into a paper filter and brew up a cup at the Tea Bar.
Step 5: Packaging – Each blend will be packaged in empty, zip-lock resalable, four ounce, foil tea pouches. The customer will be able to write any identifying information into a blank area on the front of the pouch.
Step 6: Purchase – As stated earlier, the cost for a custom blend will be slightly higher than the regular purchase price for the teas available for blending. We haven't officially set the custom blend price, but I'm guessing it will be close to $2 an ounce.
Because opened tea products cannot be re-sold, we will not allow returns for refunds of any opened loose tea packages. That said, we stand behind our product and want to ensure a quality customer experience so we will allow exchanges of tea – even if the reason for exchange is that the customer accidentally created a terrible blend. The reality is that few people return food products anyway, and fewer still will return a food product they made, even if it's bad. Those that do insist on a return will likely be both very upset and very vocal if we were to refuse. At the end of the day, rejected custom blends is a small risk to take.
In summary, with the right tools and process, custom blending doesn't have to be terribly complicated. It is, without question, both a lot more interesting for the customer and a lot more complicated for the retailer, but we need to give our customers a reason to go out of their way to visit an Adagio Tea Shop. We want to offer a customer experience that is unique and memorable. Too many retailers focus on maximizing the value of each sale at the expense of customer satisfaction and loyalty. We'd much rather complete a small sale to a delighted customer who will tell their friends and shop with us again.
Adagio Teas
Twitter: @AdagioRetail