Pursuing your dreams: Next steps
Charles Cain - Jun 14th 2010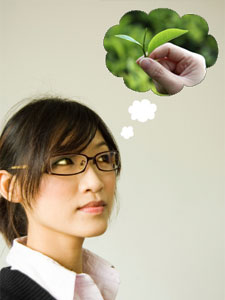 The 2010 World Tea Expo was FILLED with excitement and buzz as a thousand starry-eyed entrepreneurs rubbed shoulders with a couple thousand more industry insiders. This mix made for a lot of excitement and a little healthy strategic re-examination. The simple truth is that there is A LOT of money to be made in tea, but if it were easy to find the perfect path, everyone would be doing it.
I gave nine and a half hours of presentations over four days, and spent the time I wasn't speaking talking strategy on the show floor and over dinner and drinks with so many of you. It was truly a ton of fun, and an honor to be a part of your process. I know my candor about the difficulty and complexity of launching a tea business scared more than a few novice entrepreneurs. For those who are considering an investment of their life savings and a few years of life, this is probably a good thing.
At the same time, the growth of this industry has only just begun, and the opportunities for new businesses and new strategies are growing, not shrinking. It takes money, business savvy and passion (often in that order) to be successful, but it can and will be done by a good percentage of you. As I repeated a hundred times on the show floor, we can all read the statistics that most new businesses fail. This tells me that most ideas are bad ideas, and most strategies won't work. That's just an honest assessment of the numbers. No one goes into business expecting to fail. That said, new businesses are succeeding and turning profits EVERY year in the tea business. The question is how do you find that mix of strategy and resources to find your piece of the ever-growing pie?
Over the past six years I've talked with well over a hundred entrepreneurs who, during that time, HAVE launched tea businesses including wholesalers, internet retailers, private labelers, tea shops, tea cafes and a myriad variations thereof. Over the next few days I will be write a series of articles sharing the "Start-Up" strategies that I've seen successfully employed to get a business off the ground as quickly, easily and inexpensively as possible without cutting corners that will jeopardize your long term success. I'll cover each of these approaches to the tea business and hopefully provide some concrete help to go along with the healthy dose of reality that you got from all of the classes and conversations at the World Tea Expo.
Check back soon, or subscribe to TeaRetailer.com (see the link in the upper right) to receive regular updates on new articles published. I'll be giving you my take on creating a branding and packaging strategy, launching an E-Commerce website, opening a tea cafe, opening a tea retailer, and launching a wholesale operation, all on a shoestring budget.
Adagio Teas
Twitter: @AdagioRetail