Getting Started: Opening a Tearoom
Charles Cain - Jul 24th 2010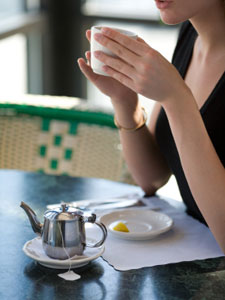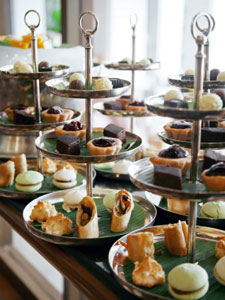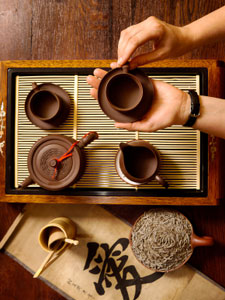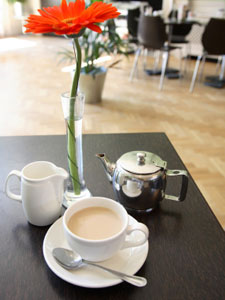 Is it any wonder that so many tea lovers dream of opening their very own tearoom? Whether the vision is traditional English, tranquil and trendy Asian, or some modern fusion, I've never met a tea lover that doesn't get excited by the prospect of sitting down to enjoy a few tea inspired dishes and a flight of premium loose teas with friends. If what Americans buy is mostly marketing, packaging and experience, then what could be better than a perfectly executed oasis of tea? The flavors, history and romance are simply unparalleled.
Anyone who has read my musings or attended one of my lectures over the past year is probably waiting for the "but". I've been clear in articles such as Developing the Retail Model, that I'm specifically avoiding any element of traditional food-service in the stores I am opening for Adagio. No kitchen, no food, no seating, no service. But that doesn't mean it can't be done, is not a good idea, and is not the perfect approach for you or your market. (Because of a unique opportunity I'm actually going to break my own rule in an upcoming store… more about this later.)
In the piece below, I've described what I believe are the keys to success for opening a successful tearoom or tea bistro. These recommendations are based on my experience opening two tea bistros (one of which was named one of the 10 Great Tearooms in American by US News and World Report) and six years of studying the industry and talking at length with anyone who would share their experience.
Understand Food-service The first key is to understand what it means to work in food-service, and understand that your tearoom will be a food-service establishment regardless of the specifics of your approach and menu. Consider the differences between a Chinese restaurant, a Japanese sushi bar, an American steakhouse, a Spanish tapas restaurant, and a Brazilian steakhouse. The customer experience, menu and decorations are dramatically different. At the same time, the daily workload and challenges of the manager, chef, servers and hosts are pretty much identical. A tearoom is a restaurant with a tea theme. If you're not prepared to go into the restaurant business you'll be sorely disappointed.
Understand Customer Expectations According to a 2009 study by Mintel, 76% of American households have packaged tea products in the pantry (loose or bagged). 10% of American households buy loose leaf tea. So while most consumers are familiar with tea, a small percent can be considered tea connoisseurs who would go out of their way for a premium tea experience. The advantage offered by adding food to a tea-based business is that you attract most consumers instead of just the few percent that are tea connoisseurs. The flip side of that is that if you are attracting the average consumer instead of just tea connoisseurs, you are competing against all other food-service establishments. Your key differentiator – being the only tearoom in your area – is just a marketing angle to the average consumer. Your average guest in a tearoom is going to care a lot more about the quality of the food and the speed of the service than the quality and selection of tea.
You will, no doubt, be very proud of your ability to infuse tea into your menu. The average customer will think this is cute, but it only works if your dish is as good or better than that offered by competing restaurants. The truth is that since your ingredient costs will likely be higher and your volume lower, your dishes will be MORE expensive and therefore must be better. The average consumer will pay a premium for different once, but will only come back if the experience is actually better than what they can get elsewhere.
When it comes to the tea, the average consumer and casual tea drinker will typically prefer inexpensive flavored tea to premium, single estate, gourmet specialties. You'll go into business dreaming of flights of First Flush Darjeelings or Chinese Oolongs, but that's not what you'll serve. The sad reality is that MOST customers will prefer the pricing and taste of their grocery store favorites over a perfectly prepared flight of premium classical teas. This is especially true in a setting where they're also eating food and therefore less able to discern the nuances of the tea.
An appreciation for fine teas has to be taught and developed over time. I can say from personal experience that VERY, VERY few customers in a tearoom or bistro will have any patience for education and experience. Most are there with friends to grab a bite to eat and talk. A sever that tries to educate or discuss the product is often seen as an intrusion.
You'll be tempted to go out of your way to make the tea connoisseurs happy, but don't forget that your model is based on attracting casual tea drinkers!
Understand how Retail complements Food-service Most prospective tearoom owners want to offer a retail section where customers can buy teas and teaware. This is a great idea. Just don't think that you can take a $500,000 tearoom and a $500,000 tea retail shop and combine them for $1 million in sales. The likely result will be maybe $600,000. In a food-service environment, whether it's closer to a restaurant or a café, retail displays are about impulse buys. People do not do their Christmas shopping in a restaurant or café.
People walking down the street will very rarely step into a tearoom to shop the retail section unless they also intend to sit and eat. I know that's not how you intend it, but that's how it works. If I want a bottle of wine, I go to a liquor store, not any of the local wine bars with retail sections. I've never known anyone to shop at Cracker Barrel unless also eating there. The customer assumes that the shopping is an extension of the dining experience. The diner is not in a shopping frame of mind, has already spent a lot of time in your establishment, and has already spent a decent amount of money. The likelihood that a diner will spend more than a few dollars in your retail section is very low.
Samovar Tea Lounge has opened three beautiful tearooms in San Francisco. While they've been extremely successful and have generated a ton of national attention, they've never been able to drive retail sales beyond a few percent of their total in-store business.
Understand the Hours and the Implications Traditional tea time is between 1 and 5. This is the slowest period of the restaurant day. In short, tea service may be a great way to drive traffic during the slowest hours, but your tearoom cannot survive on tea service. You will need to capitalize on BOTH the lunch and dinner rush. The only food-service concepts I've seen that can survive on one rush per day are huge volume breakfast concepts, lunch concepts that cater to high density business areas or high priced fine dining concepts. I've NEVER seen a tea room survive without finding a way to stay busy from lunch through dinner. A successful dinner menu will likely require alcohol and a kitchen. You can cater in lunch and tea service items, but dinner is a bit harder.
If your model is more of a café (modeled after the ubiquitous coffee shops) then of course dinner won't be your focus but then your hours need to be early morning through late evening in order to drive the sales necessary for success.
Understand the Staffing Implications In my experience, the employees that are really adept at learning about and getting the customer excited about tea do not want to serve tables or mop bathrooms. The employees who can handle serving 5 or 6 parties at a time are not going to learn the nuances of your finest teas. The best servers are going to leave you and go to a restaurant with more expensive dishes and alcohol. The truth is a server can probably make twice as much at a chain like Olive Garden than in a tearoom because the traffic and average tickets will be higher and they get make their money in tips.
As importantly, an employee engaged in a consultative sale should be able to spend 10 minutes or more with a customer discussing the finer points of teas. The typical café or tearoom customer waiting for service will grow impatient very quickly watching your staff "chit chat" with another customer. This is a challenge that's difficult to overcome unless your retail and foodservice sections are completely separated. Even if they are, your employees will gravitate towards the immediate service needs of the foodservice guests over the slow focused process of the consultative sale. It's very hard to slow yourself down and really engage a customer when you have tables waiting for their check or food waiting to be served. Can you afford to hire both dedicated retail and food-service staff?
Understand the Costs You can open a great retail tea shop in under 1,000 square feet. In order to have enough seating to support a kitchen you really need at least 2,500 square feet. Labor costs are higher, equipment costs are much higher, and the build-out is often very expensive. A Panera sandwich shop is neither huge nor beautiful, but it costs more than $1 million in cash up front to open one!
Does that mean you need a million dollars to open a tearoom? Certainly not, but you if you don't understand why a Panera would cost $1 to $1.5 million and can't explain where and how you're going to do it for less, you have a lot of homework to do.
Why I won't open a Tearoom At the end of the day, I am quite confident that people will open successful tea rooms. I'd love to help them do that. I'd love to have one in my area. That said, I won't open one myself because the strengths offered to me by being part of an established and successful tea company are pretty much useless in the competition against area restaurants. I am not a restaurateur and don't want to be in the food-service business. Adagio is a tea company, and while tea and food complement each other wonderfully, I know that the tea itself will have little to do with the success of a Tearoom.
Unlike some of the other "Getting Started" articles I've written (Packaging and E-Commerce), I don't have a great recipe for success in opening a tearoom because I've failed at the two attempts I've made. I firmly believe that the keys to my failure were misunderstanding the issues above and, most importantly, trying to capture both the strengths of a tea retailer and the strengths of a tearoom. I succeeded in doing a mediocre job at both. I hate being mediocre. I'm pretty confident I could open a successful tearoom today, but I KNOW how to open a successful Tea Retailer. That is what I'm doing.
If you're looking for someone to learn from on the tea and food-service side, pay a visit to the Samovar Tea Lounge in San Francisco, and the Queen Mary Tea Room in Seattle. Each is an impressive and profitable businesses that has a good reputations in the tea industry. Each also takes a totally different angle on the business.
Adagio Teas
Twitter: @AdagioRetail