Designing a Storefront
Charles Cain - Aug 17th 2010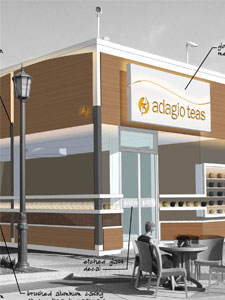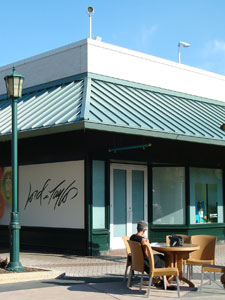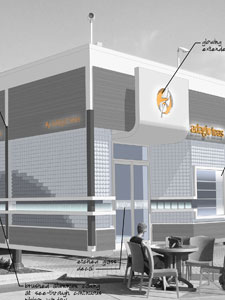 With less than 60 days before the opening of our Old Orchard store, we're working furiously to finalize the design elements so that we can get contractor bids and begin construction. The process is made significantly more complicated by the 176 page Retail Design Criteria Manual from Westfield, the Mall Developer and Landlord. EVERY element of the design is covered by some rule. While they will make exceptions based on specific retail merchandising strategies or branding elements, Westfield has the final say on what we can and cannot do with the exterior an interior of our space.
For example, the new design criteria requires us to remove the green awning (pictured to the right) and take the glass up to the full 12 foot height of the internal ceiling. It was not an option to simply paint the facade and put up a sign.
In some cases, like our Naperville store, the design is simple enough (or in this case the options limited by the historically protected status of the building) that we can do the design internally. For Old Orchard, however, the change needed to be dramatic. As importantly, the technical requirements of changing the glass, removing the awning, and replacing the door made it necessary to engage professional designers.
At this point we're looking at a total cost of close to $20,000 between design and architecture for the interior and exterior of the space. The exact amount depends on how many design iterations we go through before we're comfortable with the aesthetic and Westfield approves the design. The Architectural requirements alone will run between $12,000 and $15,000 even if we were able to create our own designs.
If all goes as planned, we'll have the design portion finished by the end of next week.
Adagio Teas
Twitter: @AdagioRetail