Naperville Construction Update #3
Charles Cain - Sep 13th 2010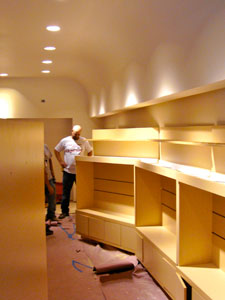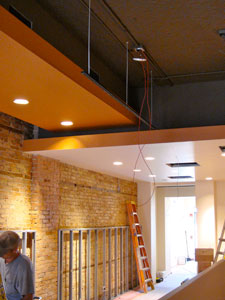 Today is the first day of crunch week, and I can definitely feel the pressure. It's amazing how many moving pieces there are at this stage of the process. At this point you hold on tight, make quick decisions, and pray that you can trust your General Contractor.
It's not as though things weren't messy before today. Last week was a string of near disasters, avoided largely because I have a phenomenal General Contractor. It started with (that's not really true either, but I'll start my story there) the HVAC going out the week before. Turns out a carpenter put a nail through a wire that ran behind the wall connecting the thermostat to the HVAC control unit. Without HVAC the drywall guys couldn't get started (the plaster wouldn't dry well in high humidity). The drywall guys also forgot about the Labor Day weekend when they gave their completion estimate. Instead of being done on Monday the 6th, they completed their work on Wednesday.
As a result, the painter, who was supposed to start on Tuesday the 7th, started another job and couldn't start until Thursday. Incredibly, he didn't show up on Thursday OR Friday. We scrambled to line up a different painter, but he finally showed up on Saturday morning and promised to work through the weekend. The painter got the ceiling done on Saturday and we were able to convince the flooring guy to start installation on Sunday. He completed the front of the house on Sunday so that we could begin installing the millwork (counters, fixtures, shelving, etc.) today, September 13th.
I sent quite a few emails and left quite a few voicemails for the millwork vendor to confirm that he would be ready for installation on Monday. Turns out he got married over Labor Day weekend and was out most of the week. He assured me on Thursday of last week that we would have no problem starting installation on Monday. Then on Saturday I got an email that while they had completed the 19 tea merchandising modules (which I had visually verified a few weeks ago), they had not yet even begun on the counters, the tea bar, or the other merchandising units. A total of 13 custom pieces, promised to be completed by early last week, remained to be built. But not to worry, he promised that they will all be done and installed by the end of this week.
So this morning... this beautiful, sunny start to hell-week, the 1,800 square foot space was home to a couple electricians, a plumber, a flooring contractor, my General Contractor, and the millwork installers, all doing something resembling a steel-toed boot ballet. Just swap the music for swearing and grunting. :)
All of this insanity might mean no more than a day or two delay, but there are A LOT of other things that have to go really smoothly. Did I mention that the painter spray painted OVER all of the $200 lighting fixtures and the $50 high intensity Metal Halide light bulbs while painting the ceiling? Need to find out if that can be cleaned off. The truth is, the challenges I've described only scratch the surface. I haven't mentioned working desperately to avoid a legal battle with the landlord, having our sign permit shut down by the city for a "historic preservation" review, the sump pump crisis, or the ADA railing debate.
To make all of this even more exciting, we completed the first round of build-out negotiations with the landlord and applied for construction permits for our second store in Old Orchard Mall today. We now have two weeks to get bids from all of the vendors and contractors before beginning construction on that project.
I'll leave all those other details for another post. After all, today is only Monday. Besides, while it's my first store for Adagio, and the completely new design has it's challenges and uncertainties, the truth is that the complexity and delays are pretty much par for the course. I've learned to expect the unexpected and enjoy the process.
Adagio Teas
Twitter: @AdagioRetail